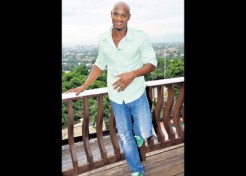 Ask Asafa – Top 10 worst Christmas gifts for men
Monday, December 17, 2012
LADIES, I know it's getting close to Christmas and the pressure is on to find the perfect gift for the men in your lives. Year after year my female friends text, call or ping me stressing about the question of what gifts to get their men for Christmas.
Honestly, ladies, most times you don't do so well at gift-giving, so I hope by reading this column you can get a clear picture.
Here's what not to get him this Christmas.
1. A stuffed reindeer, Santa or elf. Pretty much, we don't want anything stuffed, holding a candy cane or a heart. Your man is not 10 years old.
2. Ties and socks. No matter how nice you think they are, save them for a more special occasion — like an eclipse of the sun.
3. Garden tools. Why would you give us gifts that will give us more chores? As much as we like being manly men we really don't want to mow the lawn or rake up leaves. Trust me on this.
4. Gym membership. If we want to get fit we'll make our way to the gym. There are more appropriate ways to tell us to get fit, you don't have to ruin Christmas.
5. Scented things. Keep the strawberry candles and scented lotions for yourself. We don't really care if our place smells 'delicious'.
6. Stationery with his initials. We don't like writing, and buying it won't get you a love letter. Just save and get an iPad Mini, he'll FaceTime you.
7. As Seen on TV. No Slap Chops, matching Snuggies, George Foreman grills, Ab Belts or any workout DVDs including P90X and Insanity.
8. Nothing related to his hobby. I know you think this is a good idea but it isn't. Whatever you're going to get him he probably has the best one already or a lot of them. He'll ask you if he needs it.
9. What you want him to get you. What do I mean? The things that are really on your wish list, like framed pictures of the two of you, 'I love you' images with hearts, poetry, gift baskets filled with fruits, chocolates and sparkling cider, and of course, a stuffed animal holding a heart. Anything that proves you're the cutest couple ever is off-bounds.
10. Anything that sings or plays music when you open it, squeeze it or touch it, including Christmas cards. This one speaks for itself.
Ladies if you stay away from any of these during Christmas, I can guarantee you'll have a happy man on your hands.