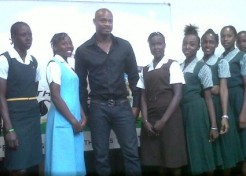 Young athletes get cash from the Asafa Powell Foundation
Former 100 metres world record holder Asafa Powell and his foundation handed over cash awards of about $300,000 to 15 student athletes for performances coming out of the 2010 track and field season on Thursday.
Youth Olympic 100 metee champion Odean Skeen of Wolmer's Boys School, who won the class two sprint double at 2010 Boys' and Girls' Championships, was among seven athletes who walked away with $20,000 each.
"It's good to give back because I'm in a position now (to do so). I went out there and did what I had to do and it's my turn now to help the younger children coming up. I'm feeling really good that I could come out today and give back something to the younger ones," Powell said.
Fast track plans to rename Charlemount high after Powell – Franklyn
Delano Franklyn, Chairman of the Asafa Powell Foundation, disclosed that they are awaiting further correspondence from the Government about a recommendation to rename Powell's alma mater, Charlemont High School, in honour of the athlete.
"At the time, the Minister of Sports said to us the matter is being seriously considered. The consideration has gone on now for considerable periods of time and I'm sure that every category of persons and groups relating to that school is in support of such a proposal. All we're urging is that we try to lift the consideration into some kind of reality," Franklyn said.
Meanwhile, Kevaugh Rattray, who established new class three 100 and 200 metres records at Boys' Champs, received $30,000.
The class four sprint relay teams of Wolmer's Boys and St Jago High girls walked away with $60,000 each.
Read More >> http://rjrnewsonline.com/sports/young-athletes-get-cash-from-the-asafa-powell-foundation