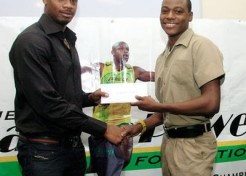 Young athletes rewarded by Asafa Powell foundation
Boys and Girls' Champs 100 and 200m boys' class two champion Odean Skeen (Wolmer's Boys) receives $20, 000 from Asafa Powell at the Asafa Powell Foundation Award ceremony, held at the Courtleigh Hotel yesterday. – Ricardo Makyn
Twelve months ago, the Asafa Powell Foundation was launched with one of its aim being to contribute to the personal welfare of track and field athletes, especially those within the age range of 12 to 25.
The foundation took the first step towards achieving that objective yesterday, when a total of $290,000 was handed over to a number of Gibson Relays and Boys and Girls' Champs standout athletes.
The Wolmer's Boys class four 4X100m relay team, which recorded a time of 44.51 seconds and the St Jago High class four 4X100m relay team, who clocked 47.50 seconds, both taking their events at the Gibson Relays, were presented with $60,000 each.
Six athletes from Champs were also selected to receive $20,000 each. They were top class one athletes Natoya Goule (Manchester High) and Chad Wright (Calabar). Sherica Jackson (Vere Technical) and Odean Skeen (Wolmer's Boys) were selected from class two. The class three recipients were Diana Johnson (Holmwood Technical) and Rohan Walker (Jamaica College), while Shauna Helps (Wolmer's Girls) was chosen from class four.
In commemoration of the 100th year of Boys and Girls' Champs, a cash award of $30,000 was presented to St Jago High's Kevaughn Rattray, who produced the only sprint record of the meet. Competing in the class three or under-15 boys' 100 metres, Rattray stopped the clock at 10.90 seconds.
record holder
The man behind the foundation, former 100-metre record holder Asafa Powell, was very happy to be able to give back to his country's youth.
"Last year, we started the Asafa Powell Foundation and this is the first contribution we are making back to the young athletes," Powell pointed out, while speaking at the presentation ceremony held at the Courtleigh Hotel.
"It is nothing big, but I am still happy that I can come and give back; and it will only get better and better in the years to come," he added.
Powell is looking to make it an annual event as he seeks to give young athletes the start he did not get.
"We are going to try and build the foundation and keep giving. It is going to be an annual affair, and even when I retire it is something that I am going to look to still be doing," Powell said.
"I have been through it, I know what it is like and there was a time when I needed the help and no one was there to help," he added.
Read More >> http://jamaica-star.com/thestar/20101126/sports/sports4.html