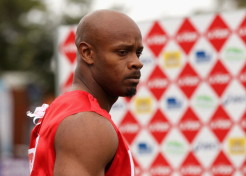 Tuesday July 23, 2013 | Statement from Asafa Powell
Before anything else, I wish to apologise again to my family, my friends, my teammates, my country and my fans worldwide for the disappointment and hurt the chaos over the last week has brought. I want to also publicly thank my parents and family, whose faith in me bolstered my efforts to clear my name and get back on the track.
I want to publicly say thank you to my sponsors, Li-Ning and LIME. Both have been phenomenal in their commitment and I do not go a day without being grateful for their support. I am especially grateful to LIME, who for the last 8 years has been by my side and has ensured that I've remained connected to my loved ones as I traveled the world. I understand and respect Li-Ning's decision to suspend my endorsement, but I look forward to the resumption of our relationship in the very near future.
By far, this has been the most difficult week of my athletic career. With that said, let me again reassure everyone that I have NEVER knowingly taken any substances which could possibly give me an unfair advantage on or off the track. The supplements I took formed part of a very strict and rigid training regimen. All of our checks told us that the supplements were fit for consumption by professional athletes.
I have retained legal counsel and as such I cannot now discuss all the details of the case. I will say, however, that I have requested that my 'B' sample be tested and I await the results. Should this sample return adverse results, my team and I hope that the hearings will happen as fast as possible so as to allow me to return to my team, to once again represent my country, and to make my family, friends, and fans proud.
Thank you all for the calls, emails and social media messages of support and best wishes. I am more appreciative of them than you will ever know. I returned home from Italy last week and I will also confirm that my training continues. I look forward to demonstrating to everyone that I am a clean athlete. I always have been, and I always will be. I look forward to donning my country's national colours and as I step into the blocks at the starting line I will remain, as always, proud to be Jamaican.