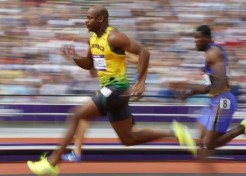 Powell speeds to year's fastest 100 metres
Asafa Powell ran the fastest 100 meters in the world this year when he clocked a blazing 9.84 seconds at the Jamaica International Invitational in Kingston on Saturday.
The time was the former world record holder's fastest in five years as the 32-year-old beat American Ryan Bailey (9.93) and Jamaican Nesta Carter (9.98) in the first sub-10 seconds 100 of the year.
The meeting also produced four other 2015 leading marks.
U.S. Olympic champion Sanya Richards-Ross delivered the first sub-50 seconds women's 400m, clocking 49.95, and Bahamian Shaunae Miller beat a high quality women's 200m field in 22.14.
Rapidly improving Jasmin Stowers lowered her women's 100m hurdles leading time to 12.39 and fellow American Aleec Harris remained unbeaten in the men's 110m hurdles, running 13.16 to equal the year's top time.
Fast times also came from Jamaicans in the men's 200 and women's 100.
Diamond League champion Nickel Ashmeade ran 20.25 to win the 200, and Elaine Thompson, already the year's fastest, clocked 10.97 in the women's 100.
American Tyson Gay, who had been scheduled to run the 200, did not compete.
(Reporting by Gene Cherry in Raleigh, North Carolina; Editing by Peter Rutherford)