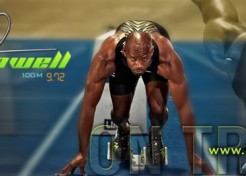 Powell breaks Marseille track record
Former 100m world record holder Asafa Powell smashed a six-year record to win a regional meet in Marseille, France on Saturday.
The Jamaican sprinter clocked 10.05 seconds into a strong head wind of negative 2.4 metres per second to eclipse the old record of 10.17 seconds set by Dwaine Chambers of Great Britain in 2009.
Wilfried Koffi of Ivory Coast was second in 10.29 seconds and Lethoso's Mesito Lehata was third in 10.30 seconds.

Jamaican Winston Barnes was seventh in 10.48 seconds, while Daniel Bailey of Antigua ran 10.38 seconds for fifth place.
Powell is the second fastest man this year behind American Justin Gatlin with 9.84 seconds set while winning the 100m at the Jamaica International invitational in early May.
He is preparing for National Trials in Jamaica later this month.
Meantime, in the women's 100m race, Jamaica's Olympic Games silver medallists Kerron Stewart and Sherone Simpson were second and third in 11.34 seconds and 11.42 seconds, respectively.
From:http://www.trinidadexpress.com/20150608/sports/powell-breaks-marseille-track-record