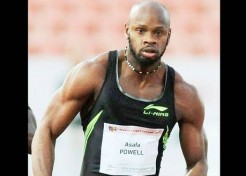 Your head's in a spin. If you're given to worry, the injuries toUsain Bolt, Yohan Blake and Asafa Powell can't be comforting. With the reliable Michael Frater just coming back from knee surgery, that leaves only Nesta Carter on track from the elite group of Jamaican sprinters.
Notwithstanding that, there's no need to worry. The tall man and Yohan don't really have to be ready until August when Moscow hosts the WorldChampionships. As reigning World Champions, Bolt and Blake have the so-called wildcard entry to the Moscow 200 and 100, respectively. Presumably, all they need to do is prove their fitness before Jamaicamake their final team declaration.
Of that top three, only Powell has to run at the National Championships to get a seat on the plane to Russia. So there's no need to panic yet. Hopefully, the tall man, 'The Beast' (Blake) and the sub-10 king (Powell) will all be fit when it counts.
At the 119th Penn Relays, there were two signs that the cupboard isn't near being bare. The University of Technology (UTech) – Nicholas Watson, Andrew Fisher, Adolphus Nevers and Julian Forte – won the Championship college 4×100 relay in 38.92 seconds.
Fisher was second in the 2011 Boys' Championships Class One 100m for St Elizabeth Technical High School. Forte, highly successful at Wolmer's Boys' School, was leading last year's World Junior 200m final when injury cruelly stopped him.
The Penn win was a landmark for UTech and Jamaica. There had been near misses in 2003 and 2012. This time, UTech was on target for the first win by a Jamaican university in the big 4×100.
That shouldn't have been a complete surprise. On February 9 in Montego Bay, UTech ran 38.80 with a line-up of Tyquendo Tracey, Fisher, Forte and Watson.
That was the first sign.
THE SECOND SIGN
The second came in the USA vs the World 4×100 for men. With Bolt, Blake, Powell and Frater on duty at different times, Jamaica was victorious in 2008, 2010 and 2011. Last Saturday, Carter kept Jamaica in the hunt and then Dexter Lee, Rasheed Dwyer and Jason Young ran strongly to secure second place.
Lee, the two-time World Junior champion, lost ground to Olympic 100-metre bronze medal winner Justin Gatlin, but wasn't blown away. A fumbled second exchange slowed Dwyer, the World Student Games 200m winner, but he recovered and Young, world-ranked at number four in the 200m last year, took back some of the lead lost to the winning USA Red team.
The 'Big Three' weren't there, but Jamaica could also have deployed Olympic bronze medallist Warren Weir, 2012 Diamond League champion Nickel Ashmeade, last year's Penn 100m winner Jacques Harvey and Kemar Bailey-Cole.
Bailey-Cole and Ashmeade both ran sub-10 over the 100m last season and the former actually deputised for the tall man in the Olympic relay heats in London. All of this group, except Ashmeade, have marked the 2013 register, with Weir leading the way with his run of 20.33 seconds for 200 metres at the UTech Classic.
So don't worry … yet. It's true that the USA ran a fabulous time of 37.04 for silver in London. That equalled Jamaica's old world record. If the Americans reach Moscow in that kind of form, they will be formidable. Of the four Americans on track at Penn, Gatlin looks the best and might be heading for fast times this summer.
The good news is that the Big Three all have time to reach full fitness and even if any of them is absent, the signs indicate that Jamaica will still have a fine quartet.
Carter looks like he is heading back to his 9.78 best and Weir and Bailey-Cole have already shown promising form in 2013. Young had to work to beat Fisher at the Intercollegiate Championships, where he ran for the University of the West Indies. He ran 10.06 and 19.86 in 2012 and is on the improve.
For all I know, Carter, Young, Weir and Bailey-Cole could give the USA a real run for the gold in Moscow. Add any or all of the Big Three and you have a high-speed recipe for success. So your head can stop spinning … for now.
HUBERT LAWRENCE has covered local and international track and field since 1987.