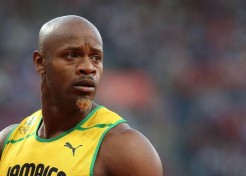 Asafa & Sherone vindicated by CAS
FOR IMMEDIATE RELEASE 
Kingston, Jamaica July 14, 2014 – Asafa Powell and Sherone Simpson this morning received their Arbitral Award from the Court of Arbitration for Sport (CAS).
Both Athletes wish to first and foremost thank CAS for its fast, effective and world class jurisprudence. The hearings were professionally conducted and focused on the law and therefore the sanction of 6 months commencing on June 21, 2013 is understood and accepted by both Asafa and Sherone as that is what the law calls for in such cases.
"I never felt that I should not have received a sanction" said Asafa, "However, I always felt that the 18 months was not in line with a first time positive test result and it being proven it came from a tainted supplement."
CAS has not just reduced the sentences of both athletes but it also awarded ALL costs
associated with arbitration for the CAS hearing as well as additional monies in legal fees to be paid by JADCO. It is believed to be one of the largest awards in the history of CAS.
Simpson said "I feel total relief and that we have finally been vindicated. We both knew that we had done all we could to ensure the supplement was ok before taking it … our actions were not intentional and CAS has recognized that. I am truly thankful."
Asafa and Sherone are eligible to run immediately and will both be back on the track tomorrow July 14, 2014 at Luzern Spitzenleichtathletik in Switzerland with a renewed sense of excitement and passion.
Paul Greene attorney for both athletes said "We are elated by the results but knew all along this is the sanction the case law interpreting the World Anti-Doping Code demanded. The Code requires that sanctions for athletes be harmonized in light of their degree of fault.  Asafa and Sherone's degree of fault when compared to the athletes sanctioned before them was at the low end of the 0-24 month range under Article 10.4 of the Code. The real shame of this is that we can't go back in time to December 22, 2013 when they should have been back competing. Had the JADCO Panel followed the IAAF rules Asafa and Sherone would have had a hearing within 3 months and been able to compete all of 2014. The nearly historic cost that JADCO will be required to pay is a sign from the CAS that JADCO's failures in handling their cases are unacceptable."
Both athletes are grateful for the support they received not just from friends and family over the last year but also from their fellow Jamaicans and they cannot wait to hit the track and fly the Jamaican flag high.
For more information: Tara Playfair-Scott | Email:taraplayfair@gmail.com  | JA: 876-997-0383 | USA: 202-470-3379