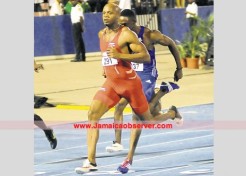 Asafa Powell: the renaissance man
FORMER world record holder and the fourth fastest man ever Asafa Powell is enjoying a renaissance and looks set to get back to the podium in the men's 100m at this year's IAAF World Championships in Beijing, China.
Injuries and a drug suspension had threatened the 32 year-old's career and many were doubting he would be able to return to the form that saw him run 9.72 seconds to break the World Record in 2008, and which saw him run under 10.00 seconds over 80 times, the most ever.
Powell, who has won two bronze medals at the World Championships from Osaka, Japan in 2007 and Berlin 2009, is ironically, in the minds of many, the best Jamaican hope for a gold medal right now, with the sub-par performances shown by defending champion Usain Bolt and injury-plagued Yohan Blake, who failed to get past the semi-finals at the JAAA National Senior Championships on Friday night.
The situation is not new to Powell, however, who had led the Jamaican comeback in the short sprints, setting the pace for Bolt, who broke his (Powell's) world record in 2008 and has since lowered it to 9.58 seconds.
On Friday night after matching his season's best 9.84 seconds (0.9m/s) to win his sixth national senior 100m title and first since 2011, Powell, who soaked up the adulation of the fans, said he felt he could run faster and go under 9.80 seconds had the first part of his race been better.
"I am feeling very strong," he said. "I need to work on the first part of the race. I have been focusing too much on the last 50 metres… I need to go back and work on the first part, but everything seems positive so far," he said.
Powell, who has been undefeated all year, had looked the part of race favourite from the start of the championships with a string of good results, winning his first round in 9.98 seconds on Thursday before cruising to a 10.04 seconds in the semi-finals.
He pronounced himself fully fit and next heads to Paris for the IAAF Diamond League meet on July 6 and says his only objective is to stay unbeaten.