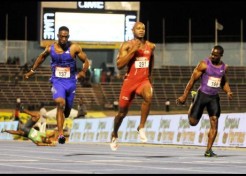 9.84 Is Asafa's Magic Time
On his last two trips to the National Stadium, Asafa Powell has sprinted to identical times of 9.84 seconds. For those who need good performances to be repeated for verification, Powell has satisfied their scrutiny.
However, a look behind that number shows that the 2005 and 2009 World Championships bronze medal winner is now in even better form than when he won the Jamaica Invitational in 9.84 seconds early in May.
His popular Invitational victory over American Ryan Bailey had the assistance of an aiding wind of 1.8 metres per second. That's a mere 0.2 under the allowable limit. His comfortable win on Friday at the National Senior Championships produced the same time of 9.84 with only 0.9 metres per second of aiding wind. In addition, he had to run three races in two days to get that time again and his sixth National 100 metre title.
Along the way, he sprinted to his 85th and 86th times under 10 seconds.
'9.84' is becoming a magic number for the three-time Olympic finalist. It's his fastest time in a major championship final and came when he placed third in the 2009 Berlin World final in which Usain Bolt lowered the world record to 9.58 seconds. Powell ran courageously through groin and hamstring troubles.
Groin injuries knocked the Orangefield native out of the 2005 and 2011 World Cham-
pionships and stopped him in the 2012 Olympic final. In 2005, the untimely injury marred a campaign in which he set his first world record of 9.77 seconds. He had the fastest times in the 100 leading up to the 2011 World Championships but had to withdraw from the Jamaican team.
Though groin troubles forced him out of an indoor meet in Ireland this February, indications are that those annoyances are behind the affable sprinter. The respite has apparently come through work on strengthening stomach, back and leg muscles to reduce the stress created by sprinting. That programme of exercise has put him back on track.
On Friday last, Powell won ahead of 2014 National Champion Nickel Ashmeade and 2014 Commonwealth Champion Kemar Bailey-Cole who clocked times of 9.91 and 9.97 seconds, respectively.