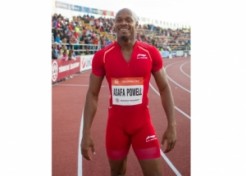 Powell ran Ostrava race twice today, clocked 9.97 in first race
OSTRAVA, Czech Republic (CMC):
Asafa Powell held off a strong challenge from Kim Collins to win the men's 100m at the Ostrava Golden Spike – IAAF World Challenge Meeting in Ostrava, Czech Republic today.
However, the race occurred amid some chaos, which forced a delayed re-run.
Initially, the Jamaican ran 9.97 seconds to win at the first sending off, but the race was ordered for a re-run, after a call back, which was missed by several runners, including Powell.
In the end, the Cayman Islands' Kemar Hyman was disqualified for a false start.
The race was pushed back until after the men's 400m dash, and Powell held off the challenge from Collins of St Kitts and Nevis to win in 10.06 seconds.
Collins had to settle for second place in 10.08 and American Michael Rodgers (10.16) third.
Powell finished a disappointing seventh at the Jamaica Championships in 10.22 seconds over the weekend after claiming he was not in race shape, after an injury that setback his season's training as early as February.
World record holder Usain Bolt pulled out of the meeting this week to concentrate on his preparations for the World Championships in Moscow in August.
Countryman and training partner Yohan Blake was also scheduled to race, but a hamstring problem forced the world champion over 100m to skip the meet.